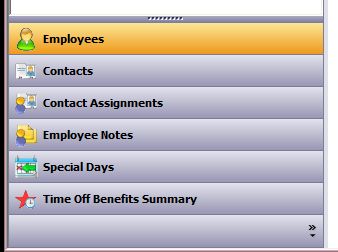 The Employees window provides access to specific types of employee related information. It is broken down into six sections and accessed using the menu shown on the right.
•

Employees:

This table provides access to the current list of employees in the data file. Employees can be added/removed/edited from here.
•

Contacts:

A contact is any non-employee which has any type of association with the business or an employee. There is no direct connection to an employee made from here.
•

Contact Assignments:

Any contact created in the Contacts section can be directly associated with an employee based on the specified contact type.
•

Employee Notes:

A note can be any piece of text that is associated with a specific employee. Each note has a subject and message field.
•

Special Days:

Any reoccurring or single day event associated with a single employee can be specified here. Examples include birthdays and anniversaries.
•

Time Off Benefits Summary:

This section displays a summary of all the time off an employee has accrued and used.